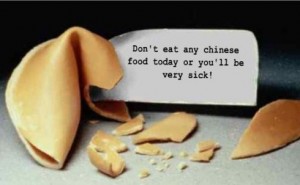 No, that's not a typo.  The fortune from the cookie from Twin Lion Chinese Restaurant said "happy" not "happen."  For those who have followed my blog for a long time, you may recall my numerous fortune cookie posts.   My last one was based on a fortune that said Love is the triumph of imagination over intelligence.
It's been quite some time (3 weeks) since my last post on the Strengths Finder book, which surprisingly garnered several comments.  Time has flown between work, kids, my consulting work, homework (my kids and mine), housework, planning the summer camp schedule, birthday party planning, taxes, driving, friends, food poisoning (not from Chinese food), attempting to sleep, oh and eating!
A couple of other fortune cookie fortunes I received are "Happiness is not a reward, it's a consequence." and "Financial prosperity is around the corner."
So until I have a chance to post something of more substance, may something wonderful "happy" to you!
Author:
Aruni
|
Filed under:
Just For Fun
,
random stuff
|
Tags:
financial prosperity
,
fortune cookie
,
fortunes
,
homework
,
strengths finder
|
5 Comments »
---